Internet Control Gateway
QI-ANXIN ICG system is a software and hardware integrated control management gateway for government and enterprise users, which can comprehensively and effectively manage the online behavior of employees within the enterprise, protect Web access security, reduce the risk of corporate Internet use, avoid leakage of confidential information, and improve employee productivity. Block and limit the application of bandwidth-intensive applications such as P2P and protect the core business bandwidth of enterprises.
Contact US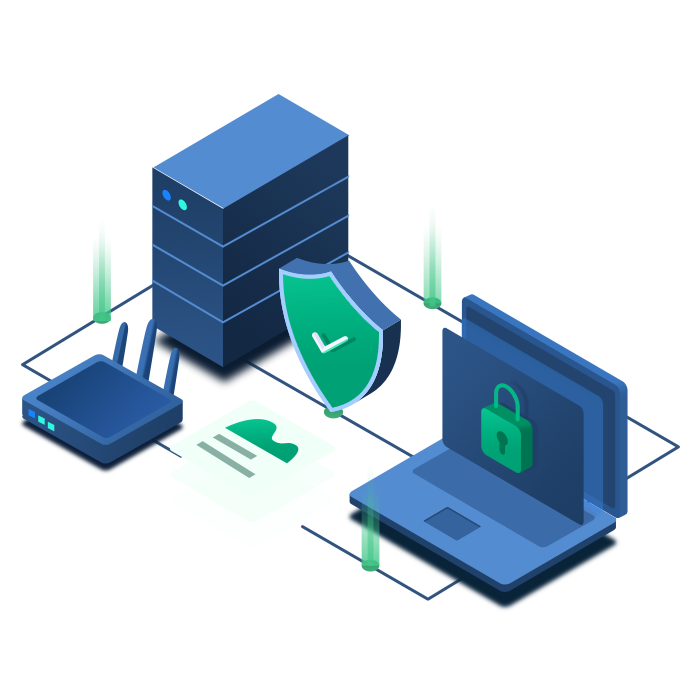 Solution Values
• Cloud security linkage, green security online
Through the linkage with Qi-An Xin security cloud to achieve cloud detection of viruses and malicious URLs.
Identify internal network failure hosts based on threat intelligence.
• Behavioral audit, avoiding legal risks
Monitor and audit the content of forums, microblogs, etc. to avoid illegal speech dissemination, audit the
user's online log, and meet the requirements of the National Cyber Security Law.
• Application control, improving work efficiency
Humanized control of network behaviors such as playing games, watching movies, online shopping, etC.,
and im proving work efficiency.
• Outreach monitoring, preventing information leak
Through deep identification and filtering of web pages, emails, and IM outgoing information content to
ensured confidential documents cannot be transmitted and accessing illegal websites, which can avoid
disclosure of data.
• Bandwidth management ,avoiding network congestion
Through intelligent traffic management technology, it effectively limits the bandwidth of applications such
as P2P and ensures the bandwidth of critical service applications.
Product Features
• Network security
By using the big data capability of Qi-An Xin Cloud to perform real-time virus and malicious URL cloud detection on user network access behavior. Through various dimensions such as threat intelligence and application behavior characteristics to effectively discover intranet trap hosts.
• Web Filtering
Control network access behavior through URL pre-sorting technology, title keywords, URLkeywords, web page keywords, search keyword filtering, etc., to avoid users accessing high-risk, illegal content.
• Application Control
Blocking and limiting the time and flow of various applications to realize the humanized control of the network application, and improve the work efficiency.
• Outsourcing Audit
By posting on accounts, content, attachments to avoiding sensitive information or inappropriate speech.
• Bandwidth Management
It can avoid network congestion by limiting applications such as P2P. And also can guarantee the bandwidth of key business system applications such as OA and mail.
• User Authentication
Supports the identity of Internet users through IP/MAC and user name; it can use the local authentication methods such as Portal, WeChat, SMS, and QR code to complete the association of the user's real identity, and support linkage with multiple third-party systems to achieve single sign-on.
• Behavior Analysis
Provide comprehensive query statistics, support custom user network behavior reports, support cloud big data user behavior analysis.
• Shared Control
Based on the application layer feature analysis technology, the network shared access behavior can be identified in seconds, the private network users can be quickly located, and the number of shared access terminals can be controlled.
Technical Advantages
• Behavioral risk visualization
It fits the business operation scenario of the enterprise, strengthens the behavior risk prevention,visualization and displays the network security, efficiency and compliance risks in a panoramic view.
• QI-ANXIN Cloud security linage
Supporting the QI-ANXIN Cloud security linkage and relying on QI-ANXIN national security big data security linkage collection, accumulation, mining and processing ca pabilities, as well as a professional security service team, which can effectively respond to new threats to Web access security.
• 48 million webpage classification library
With innovative URL pre-classification technology, both filtering and management effectiveness are the best. More than 40 major categories,120 sub-categories and 48 million URLS are continuously updated.
• 6500+ application protocol library
The leading application protocol feature library covers more than 6,500 Internet applications,including more than 1,000 mobile applications, which can effectively meet the mobile Internet management needs of the BYOD era.
• Strong content auditing capabilities
Leading SSL auditing technology enables content-level auditing of encrypted applications such as HTTPS web pages and SSL-encrypted emails while ensuring device processing performance.
• Flexible and complete authentication method
Supports more than 30 user authentication methods, including Portal, SMS, WeChat, QR code and other local authentication methods; it can seamlessly connect with more than 100 third party authentication systems to achieve single sign-on.

• Separate management mode
The device management mode of administrators, and auditors with multiple roles and decentralized functions, combined with the U-Key+user name two-factor authentication method, effectively avoids the management risks caused by excessive administrator privileges.