QAX Endpoint Security Management System Successfully Passed Virus Bulletin Test
Date:Apr 24,2020 Author:QAX
On April 2020, Virus Bulletin has published the latest VB100 verification results.
QAX Tianqing Endpoint Security Management System has passed with 0% False positive rate, and 100% Diversity test rate. The report also introduced over 42 VB100 verification results from 36 global security vendors, only 3 China security vendors has passed the test. This result marked the anti-virus ability of QAX once again has been recognized by industry influencers.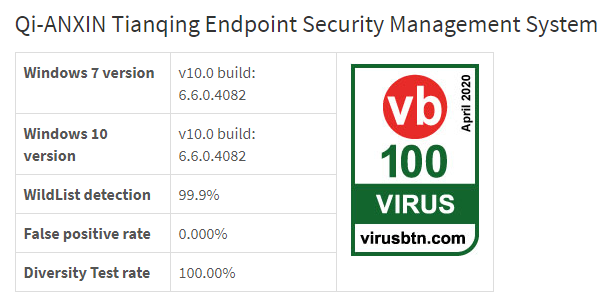 The remarkable antivirus ability of QAX Tianqing System is supported by its independently developed QOWL engine. Tianqin now has been deployed by over 50,000 organizations and enterprises, protecting over 40 million endpoints.